NTRODUCTION 
KENIL NETWORK ENTERPRISES is a part of KENIL NETWORK GROUP OF COMPANIES which has been IT in the field of information technology services, including software development & design, digital marketing, data  entry  and Education Portal  technology managed services since 4 years.
Now KENIL NETWORK ENTERPRISES is the leading Manufacturer & supplier of Non-Woven bag and Also Fully Automatic Non woven Bag Making Machine in India. We started our business operations in the year 2015.The Non-Woven Bag that we offer is highly durable and it can hold heavy weight. These Non Woven Bags are Eco friendly and recyclable, which never effects environment. Non- Woven Bags can be used as Gift bags, shopping bags, Advertising bags, etc. We offer,non woven bags, Box-bag, D-cut bags, U-cut bags and W cut Non Woven bags,non woven bags manufacturer in noida,non woven bags wholesale,non woven bags suppliers in india,Non Woven Shopping Bags,D Cut Non Woven Bags,non woven cake bags,U Cut Non Woven Bags,Non Woven Bag in Noida,Non Woven Carry Bags,Non Woven Shoes Bags,Printed Non Woven Bags,Non Woven Loop Handle Bags,Non Woven Bags And Non woven Bag Making Machine,Printing,non woven pooja samagri bags,non woven sweet bags,Non Woven Shopping Bags,non woven grocery bags,Non Woven Bag Plain,Non Woven Box Type Bags,Non Woven Packaging Bags,non woven bags price,non woven bags manufacturer,flexo printing non woven bags, which are highly used in Super markets, Shopping Malls and all Retailer shops.
FEATURES  
WATER RESISTANT
HOLD HEAVY WEIGHT
DURABLE AND RELIABLE
HIGH STRENGTH HIGH QUALITY
FEATURES OF THE NON-WOVEN SHOPPING BAG
Eco Friendly
Suitable for advertisements
Shipping, packing, Promotion
Anti-pull, anti-tear, strong, extensible and high in the intensity of mechanics
Acid-resistant, alkali-resistant, non-poisonous and no harm to human body
Good in ventilation
Recycle, environmentally friendly material
Water resistant and moisture proof
Durable and tear resistant
Available in a wide variety of styles  
 Various shape ,size and designs acceptable
Buyer logos and designs acceptable
Materials: non woven fabric, any thickness
Printing: solid colorful color printing
Surface decorative finishing: Gloss/matte lamination, glitter, embossing, creasing, foil stamping, die cutting, oil printing, screen printing:
Usually used for gift/clothes packaging and craftwork:
Carry handle; non woven, polyester
NON-WOVEN BAGS SIZES                                                                  
| | |
| --- | --- |
| Sizes Available (in inches):D CUT BAGS  | Sizes Available(in inches): U/W CUT BAGS |
| | |
| 8×10 | 7×11 |
|  9×12 | 8×14 |
| 10×14 | 9×14 |
| 12×16 | 11×16 |
| 13×19 | 13×16 |
| 14×18 | 13×19 |
| 15×19 | 15×19 |
| 16×20 | 16×20 |
|  20×26 | 20×26 |
| Customized size also available | Customized size also available |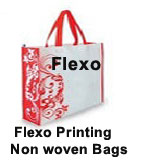 Send Inquiry                                   Send Inquiry                                  Send Inquiry                                  Send Inquiry                                         Send Inquiry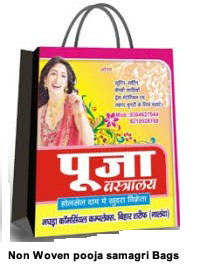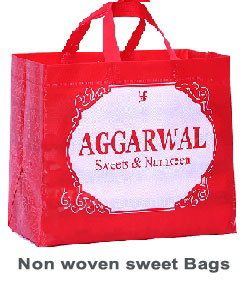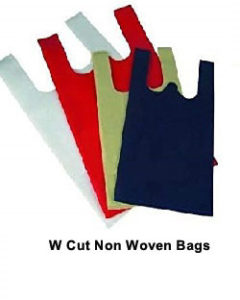 Send Inquiry                                 Send Inquiry                                          Send Inquiry                               Send Inquiry                                      Send Inquiry
Fully Automatic Non woven Bag Making Machine
Kenil Network Private Limited were established in the year 2015, as the eminent manufacturer, trader and supplier of Non woven Bag Making Machinery,Back to Back Printing Machine,Back to Back Printing Machine double colour,Hydraulic u Machine,loop bending machine automatic,loop bending machine manual,manual roll cutting slighter machine, U cutt Machine,D cutt Machine,Offset Back to back printing machine double colour setlight(plc machine),Roll to Roll double colour(Flexo),stablizer,servo. Our offered range includes Non Woven Printing Machine, Fully Automatic Non Woven Bag Making Machine and Non Woven Roll to Sheet Cutting Machine, manufactured as per the approved industry norms and integrated with advanced working mechanism. Our offered products have gained wider acceptance in the market as owing to user-friendly maintenance and superior performance. Used widely to cater to the diversified industrial needs, our products have become brand offerings in the present context. We are also provided installation services.
Back to Back Printing Machine
Back to Back Printing Machine double colour
Hydraulic u Machine
loop bending machine automatic
loop bending machine manual
manual roll cutting slighter machine
U cutt Machine
D cutt Machine
Offset Back to back printing machine double colour setlight(plc machine)
Roll to Roll double colour(Flexo)
stabilizer
servo